Online Services
E-Statements
Receive your Creighton Federal monthly and quarterly statement electronically, via secure email link. Enjoy the convenience of FREE E-Statements any place with an internet connection.
E-Statments - Simpler, More Secure, More Convenient.
GREEN...
E-Statements are good for the environment. They literally save tons of paper. Which means fewer trees need to be harvested and less energy needs to be used to make the paper. Choosing E-Statements is something easy you can do, that really is Earth-Friendly.
FAST...
You get your statement sooner, because online delivery eliminates delays sometimes found with postal mail delivery.
SIMPLE...
E-Statements eliminate the clutter of paper statements and allow you to store and retrieve past statements right on your hard drive.
SECURE...
Identity theft experts actually recommend electronic statements. Why? Because most identity theft occurs through the mail or improperly discarded paper documents containing sensitive information. E-Statements simply protect your information better than paper statements.
FREE...
It costs you nothing to switch to E-Statements - and to have access to every transaction in your account, including check images, right at your fingertips.
Enroll today and discover all the advantages of E-Statements.
Simply log into Online Banking or Mobile Banking and follow the e-statement link to enroll.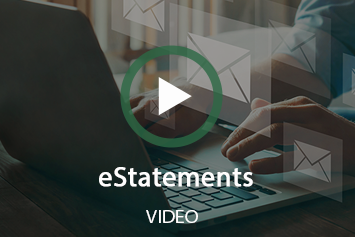 Online Bill Pay
Pay almost anybody, anytime. The online bill paying feature of Online Banking lets you do all this:
Schedule payments up to 60 days in advance.
Make recurring (same amount) or variable (different amount) payments.
Pay bills any time of the day or night, 365 days a year.
Make an unlimited number of payments.
Access live customer service representatives Monday - Friday during regular business hours.
Add, change or delete merchants online.
Make fund transfers to personal accounts at other financial institutions.
Organize payees by category for easier payment management.
View your bills (from the cable company etc.) right from your online Bill Pay Account.
Online Bill Pay now has eBills, which allows you to view your bills right from your online Bill Pay account. View amount due, due date and unpaid balance. eBills is offered on any payee designated with the e sign-up icon.
Best of all, Online Bill Payer is FREE! Enroll first in Online Banking, then follow the link to Online Bill Payer.
Go to main navigation